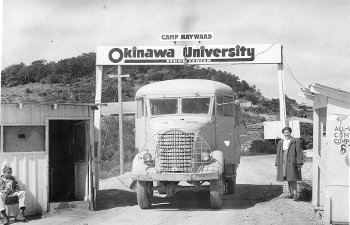 Okinawa University School - Camp Hayward, Okinawa
Photos and Information pertaining to Camp Hayward - Okinawa University School


November 1946 to Spring 1947 Dependents began to arrive on Okinawa in the Summer of 1946. With dependents comes the reality of knowing there would need to be a school. Dr. Theodora Koob would be the person that would put a school together ....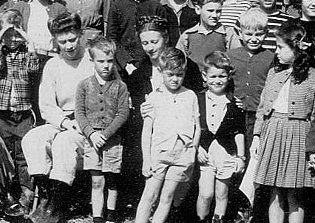 Dr. Theodora Koob, who would be the founder as well as the very first principal of a dependent school on okinawa, arrived in country in October of 1946. While it is not clear exactly the personnel and relationships involved that would cause a school to be founded, it is very clear that Dr. Koob played a vital role. In some ways it must have been pure luck that a dependent arrived that had a Doctoral Degree in education and also had the teaching background she possessed. Dr. Theodora Koob at left, center of picture.





Location of Okinawa University School


Okinawa University, the namesake for the new dependent school, was already an open and operating higher education facility for active duty military. The dependent school used their buildings during the school day. Camp Hayward was located near midway between Sukiran's (now Camp Foster) eastern boundary and the Pacific Ocean on Route 30 (now Hwy 81), very near Kitanakagusuku Village. Below is an overhead aerial photo of Camp Hayward, a map of the area in 1945, and a map of the same area today.




The First School Year


When Okinawa University School opened its doors in November of 1946 to students it was only ready for the 1st to 6th grade students. It was sometime after that, when the upper grades were included in the learning process. The very fact that the school opened so late in the year must have made it very difficult, if not impossible to have much in terms of extracurricular activities. We have found absolutely no evidence that any activities were offered this first year. As far as we know, there was no yearbook, there was no student council, there was nothing, just school.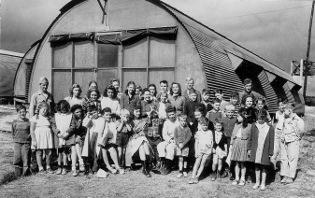 At the right, we have found what appears to be a Class Photo taken at the Okinawa University School Campus. This photo appears to be only younger kids. Our understanding is that the younger kids started in November 1947 and the older started at some point later. We know that the entire student body was in session prior to Febuary 1947. So, we surmize the older kids probably started in December or January.










Staff, Students and Facilities


Teachers were recruited from the on-island dependents pool, as there probably was no time to recruit, hire, transport professional teachers from the States. Students were taught to avoid mines by the military. As stated earlier, the school occupied existing university buildings for most of its time at this site. In March of 1947, a Jumbo Quonset was built specifically for the school and all grades were under a single roof. In April of 1947, the Jumbo burned to the ground and students returned to the existing buildings to finish out the year. Over the years, we have been in touch with three persons that actually attended school at this campus, very few records exist .... we hope that someday we can identify a few more people in the pictures. One person we have identified is Natalie Merritt, standing next to the Entry sign at the top of this page, along with Dr. Koob who passed away in 2003.

We recently interviewed Dorothy and Audry Powell. Audry graduated as a senior in 1947 from this campus. Dorothy was several years younger and would go on to graduate in 1953. We received several pictures from Audry of the High School Aged Children at this particular campus in 1947. At the time these photos were taken, there were four seniors within the student body. Two more would arrive at a later date to make a total of 6 Graduates from Okinawa University School Class of 1947. We have the names of three of the 6 Seniors:

Audry Powell
John Ludden
Jackie Ludden

The remaining three remain unknown, at this time.

Below please see the pictures of the High School Kids (they attended Natalie Merrit's Birthday Party in Febuary 1947) According to Audry, the family had just arrived a couple days before the party and really didn't know any of the other kids until that day. It was a different time, they were all in a strange land and all they really had was each other .... a lot different from the way things happen in the present.

The following photos are of at least some of the high school age kids as of Febuary 1947 and were likely not taken on campus.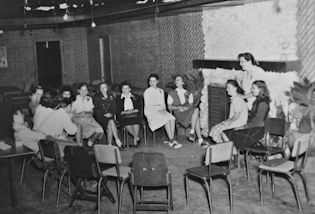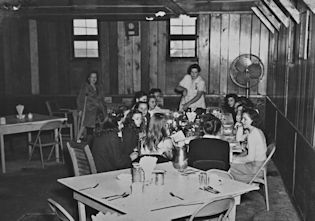 Anyone that has any additional information about this site, the school, the people, the circumstances, memories, written or photographic, please contact us!!

Send us an email